Andrew! Hi. What did you have for breakfast this morning?
3 eggs (sunny side up), a banana, an orange and a glass of water!
You are the first person we wanted to interview for this 'new era' of THE BRILLIANCE! Congratulations. How does it feel?
It's an honor! There are so many actually interesting people to talk to!
You are, as we like to say, "very internet". A lot of people might know your Instagram @EarlBoykins, where you post, honestly, the best "funny internet pictures". What a lot of people might not know is that you're actually an artist..so - what's the story behind the way you use Instagram?
It's about the endlessness of the Internet, and showing something through other people's pictures. The story is: the world can be awesome.
Where did the Earl Boykins nickname come from for you?
One of the coolest NBA players ever! He's 5'5" (my height). Everything I do is about being a short man.
Your internet 'face' is Milhouse - any particular significance of that character for you?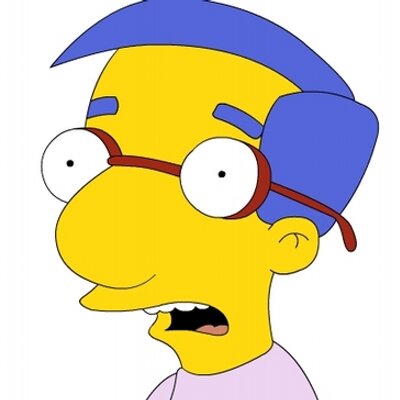 Like everyone else, I'm a fan of the Simpsons, partially in the way it brushes against the topic of race the way it does, especially in the Canal Street bootlegs we used to get here with Black/Rasta Bart. I've always identified Milhouse as being Asian, even though he's probably not. At the very least, emo music seems to be in his future. I used to buy tickets for shows from strangers on Craig's List and tell them to look out for a Milhouse in front of the venue. It was just easier that way.
The whole meme curator thing is obviously quite huge now - FuckJerry, FatJew, Grapejuiceboys, etc then all the super deep weird ones...yours feel so different. I'd say smarter? In fact you're the only meme account I still follow. Anyway, whats the point of it for you? Is it something beyond just fun?
Thanks! I'm not sure how "smart" it is, but I want to set a certain tone. The point of it is to continue the flow of the internet and to be active in something I love. If I'd have to talk about the "beyond" of the fun, it'd be about appropriation and how never-ending a story can be. It' changes when you add to it, then you add to it again to change it even more—or less, depending on what kind of story it is. I like how, the more I post, the increasingly reductive it is.
Do you have any all-time personal favorite posts of yours? A top 3-5 perhaps?
Social media in general...it garners a decent amount of eye-rolls these days just saying those two words. I'm guilty of it myself, but I do love its insanely quick ascent into popularity and its impact on culture in general. 5 years from now, 10 years from now...where do you think it'll be? Whats the life-span of all these services?
It all depends on what outliers happen. This involves legislation, world events, public opinion, new technologies, etc. If aliens land on Earth, I'm sure we'd use social media in a completely different way. If Apple implants chips into our brains, I don't know how or if we'll be swiping left. If luddites create a political party and win, maybe we'll be taxed for every hot take tweet we post. In the same way the Internet can create actual life, parts of it can die the ways a living thing does. If I'd have to guess, there will be more of a class system incorporated into whatever they decide with net neutrality. It'd be subtle, but we might lose the socialist aspect of it all and splinter off into tiers. That would kinda be a shame.
Feels like quite a few people don't know that you're a proper artist outside of being a "meme guy" - I love the intense contrast of that. How would you define the style and approach of your personal art? Are you classically trained / educated in it? Does that matter?
I'm a pretty traditional/old-fashioned studio artist. Every day I go to a place that isn't my home to make paintings and sculptures. I work by myself and listen to the radio all day. I went to RISD for undergrad so I'd say I'm pretty trained within a traditional art system. I liked school and felt lucky to have the chance to go. The ideas I learned there are still with me now. Training doesn't have to matter, but it doesn't hurt, either. I try not to fetishize it either way.
You're an avid patron of the art world in NY. What are some of the best shows you've seen in recent memory?
I loved the Anne Neukamp show at Marlborough Contemporary. The Louise Lawler show at Moma was top notch. Larry Clark's personal art collection at Luhring Augustine Bushwick was dark/intense. Ellsworth Kelly's color stripes was at Matthew Marks. Felix Gonzalez Torres at Zwirner whoa. Jackie Saccoccio at 11 Rivington. I think Peter Saul has a show coming up. Laura Owens at the Whitney, too. Those will be cool.
What are your favorite Instagram accounts? Could be funny/weird ones or just people you enjoy following.
@webuywhitealbums and @craigslist_mirrors are incredible and my favorites.
You're very deep into 'Basketball Twitter' and a huge NBA fan. Who is your team and how does this answer make you feel right now? How do you feel about the current state of the NBA?
I love all things NBA and I'm a loyal Knicks fan. They're horrendous if you care about winning or the chance of winning, but they've made me a better person, because I've stopped caring about how good or bad things are or aren't. It's a true joy to watch their games and talking shop with anyone who isn't foaming at the mouth. The current state of the NBA is fantastic. The league has never been more clever and interesting on and off the court. It's peaking… I can't wait to see where it goes from here.
Nikola Jokic or Karl Anthony-Towns? Twitter or Instagram? Photoshop or Illustrator? Vans or Common Projects? Thick or thin crust pizza? Best bagel in NY? Best sandwich?
KAT, but not by much. Jokic is probably a top 10 guy at this point. Twitter cause it's harder. Illustrator. Vans. Thin. Only savages eat deep dish. Russ & Daughters (by way of the Bagel Hole in BK). Harry & Ida's on Avenue A is no joke.
** Had you heard of us before we reached out?**
I can't say that I have (apologies) but I'm a fan now and have been a fan of Chuck's work since the early 00s!